November 12th, 2019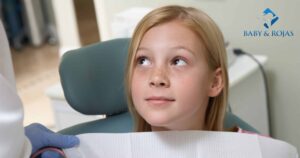 One of the most common abnormalities in a child's facial growth and development is caused by a compromised airway or, simply stated, the inability to breathe properly through the nose. Read all about the common causes of altered breathing patterns and signs of airway problems below.
Children who cannot breathe well through their nose will tend to breathe through their mouth. This sets up a chain of events which may severely impact not only the health of a child but also the way a child's facial features develop and ultimately the way a child looks as an adult.
The most common causes of altered breathing are:
Enlarged adenoids
Enlarged tonsils
Deviated septum (nasal obstruction)
Allergies
Chronic sinus infections
The effects of a compromised airway on the growth of a child are revealed in many ways. The tongue often positions itself snugly in the lower jaw to allow a child to breathe more readily through the mouth. This, in turn, changes the growth of the lower jaw so that it grows more vertically and makes the face look longer.
At the same time, since nasal breathing is severely compromised, the upper jaw and midface (the nasal bones, cheekbones, and bones supporting the tissue of the face) fail to develop at a normal rate because the natural growth stimulant of airflow through the nose is absent. This results in a deficiency of growth of the upper jaw and midface which, added to the long facial growth from the lower jaw, directly impacts the facial balance and beauty of a child and later as an adult.
As parents, we often see the signs of airway problems however they often go unnoticed. Here are a few common symptoms of airway problems:
Mouth breathing – signs are dry/chapped lips which stay apart at rest and red, inflamed gums
Venous pooling beneath the eyes – dark circles beneath the eyes
Change in head posture – head postures forward and/or tipping the forehead backwards
Tonsil and adenoid problems – Chronic sinus problems, throat problems
Snoring – children do not usually snore
Loud grinding of teeth during sleep
Bed wetting
Reflux in the eustachion tube – can lead to inner ear infections
Why is it important to recognize and treat airway obstruction?
Over time, if a child is not getting enough quality sleep, he or she does not acquire sufficient amounts of oxygen to aid in normal brain and body development. The child is more likely to be diagnosed later in life with health conditions such as attention-deficit hyperactivity disorder (ADHD) and childhood obesity. Studies have shown decreased airways in growing children can also lead to other behavioural problems such as restlessness, aggressive behaviour, excessive daytime sleepiness and poor test performance. Patients who grow up with untreated, chronic sleep apnea are also more likely to having learning disabilities, behavioural problems and metabolic problems.
As children aren't able to identify the problem on their own, it's crucial for parents to pay close attention to their children's sleep habits and daytime behaviour. We are here to help bring these possible issues to light so we can work with you and your child to provide the care your child needs and deserves.